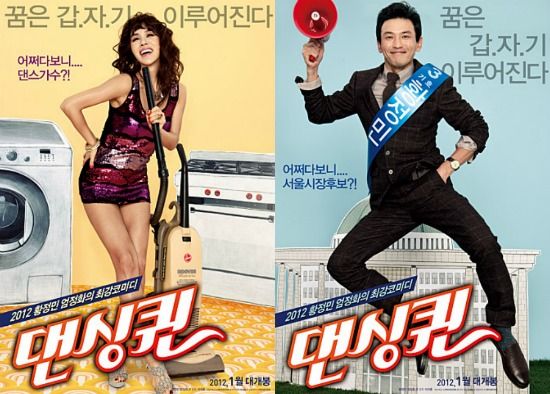 I seem to be having a string of bad luck in the realm of film.  If you've been keeping up with my reviews you'll notice the last few films haven't been at the top of my list.  With DANCING QUEEN I can't say my losing streak necessarily continues but it is a little worse for the wear.  This comedy starring singer/actress Uhm Jung Hwa and MOBY DICK actor Hwang Jeong Min looked quite promising.  Director Lee Seok Hoon's efforts weren't a total loss but if I had looked at other reviews instead of box office numbers I would have saved myself the cost of the ticket.
DANCING QUEEN tells the story of a husband and wife whose marriage and family have forced them to let their dreams go astray.  Jeong Min is an accidental political activist turned down-on-his-luck lawyer and his wife, Jung Hwa, was a local dancing legend who is now an aerobics instructor trying to make up for her husband's financial shortcomings.  Their lives shift when they are both offered opportunities to return them to their former glory.  Jung Hwa is approached to join a girl group that is in need of a replacement for their rapidly approaching debut and Jeong Min decides to run for mayor.  These changes force them to re-evaluate their lives at the moment and their lives with each other.
I found this movie to be very awkward.  I was hoping to have a good laugh but I just wound up with slight giggles and a partial cry.  It was an odd mix of comedy and drama and the poor editing quickly jumped you from one scene to another, making it impossible for you to settle into any type of feeling about the story.  The two plots of politician and dancer didn't mesh well together and any attempts to make them fit were underwhelming.  The leads did a decent job with their characters which I found to be the film's only saving grace. Sadly, the characters weren't enough to make DANCING QUEEN anything other than forgettable.
No related posts.
Related posts brought to you by Yet Another Related Posts Plugin.